The Devil's Daughter by Laura Drewry
Check out Laura Drewry's latest–
The Devil's Daughter is on the shelves!
Fire and brimstone she can manage;
Falling in love's a whole "˜nother story. . .
The Devil's Daughter will do whatever it takes to win her freedom, even if it means claiming the soul of sexy Jed Caine.
There's no question he wants her, but he wants more than just her body; he wants her heart, too, and he'll settle for nothing less. His stubborn ways and gentle touches are too much— even for the devil's own daughter. She was sent to steal his soul, yet there he was. . . capturing her heart.
How was she ever going to explain this to her father??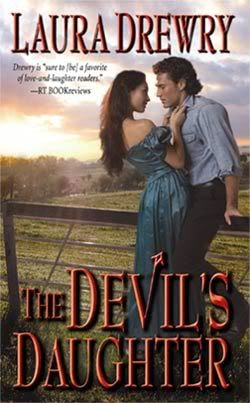 Here's what the reviewers have to say:
". . .a provocative western loaded with lustful love scenes and a romance that will melt your heart." 4 1/2 stars
– Romance Junkies
". . .a clever paranormal western with a bad-girl heroine and a saintly hero struggling with love, loyalty, duty and passion. It reads like the best of Americana, with the right hint of devilishness, proving that naughty can be good." 4 stars
– Romantic Times BookReviews
". . .devilishly delightful. . ."
– Harriet Klausner
". . .humor, sizzle, and emotion in a strong novel." 4 stars
– BooksForABuck
". . .a lighthearted romp from the gates of hell to the Old West."
– Singletitles.com
". . .an original, creative, and humorous story. . ." 5 spurs
– LovesWesternRomances